Welcome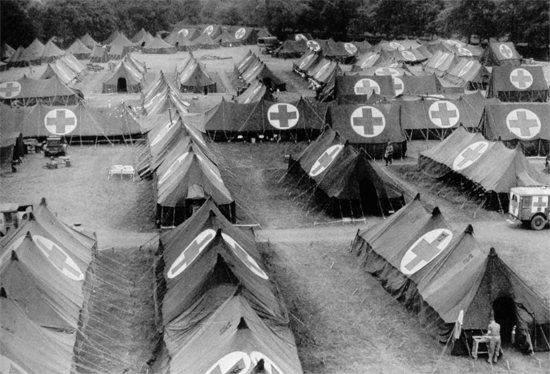 Typical view of a Field Hospital, with numerous Hospital Ward Tents, Pyramidal Tents, and Small Wall Tents, the majority of which carry a large circular Geneva Convention or Red Cross marker for identification
Welcome to the WW2 US Medical Research Centre. We hope that your stay here is a long and enjoyable one. The site is a work-in-progress, designed to offer an excellent research utility to anyone interested in WW2 United States Army Medical history.
The site was founded by two World War 2 medical collectors and re-enactors from Europe, frustrated by the lack of comprehensive research tools for this area of WW2 History. The site originally started out as a database of United States Medical Department Item numbers and descriptions.
The founders hope that you find the site useful, and really would welcome any comments that you may have regarding the site. Please feel free to contact us using the "Contact" page found here.
Please use the navigation menu to your left to navigate around the site, and please feel free to leave us your comments and feedback in the Guestbook.
Many thanks for your visit,
Alain S. BATENS and Ben C. MAJOR.
Site Statistics
The site was last updated on Monday 21st April, 2014
There have been 944,873 visits to this site since December 2nd, 2006.
There are currently 2 users visiting the site
You can obtain more detailed site statistics by clicking here.
Latest News
The following is a list of our latest news items. These items have been taken from our RSS Feed and News Archive, which can be found by clicking here. If you would like to view more about a specific news item, please click on the "Read More" link underneath the extract.
Please Note: Only the latest 5 items are shown here, and should you wish to view more of the news, you should visit the RSS Archive.
"Ode to the Medics"
---
"They give me shots for tetanus;
For typhoid, I get three!
The yellow fever is an excuse
For one more hole in me."

"They stick the needle in me dry;
They stick it in me wet.
They punch me full of holes, it seems,
At every chance they get."

"Typhus, measles, housemaid's knee,
There's shots for ev'ry thing;
Fallen arches, leprosy:
Boy, those shots do sting!"

"Sometimes those vampires stick me good
Right in a vein of me,
And then they take a pint of blood
And smile with fiendish glee."

"Oh, I haven't been in battle, yet;
In war I haven't starred.
But if you saw the holes in me,
You'd swear I'm battle scarred!"
---
(Courtesy "Yank-The Army Weekly" 1942)
| Top |
---